| | |
| --- | --- |
| 20 May 2015 | Cheap And Cheerful Student Cleaning Advice |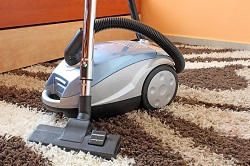 With lots of things to do and little time to do them, student life is often hectic and at times can be quite overwhelming. It's the beginning of adulthood where you have to learn to stand up on your own two feet. This is especially the case if you're living away from home in rented accommodation. You'll have to take care of the house, and that includes cleaning. After all, you don't want your landlord dropping by for an inspection only to find your house in a tip. House cleaning should be done regularly but it's especially important at the end of your academic year when you have to hand back your keys. Fail this all important final inspection and you could be waving bye bye to your deposit, and as a student, every penny you save is of vital importance. So use these top tips to help keep your house clean.
1. A clean and clear house equals a clean and clear mind.
Do everything you can to ensure academic success and make your time as a student worthwhile. If the environment around you is clean and sanitary, it's going to have a positive effect on your studies. It may seem like a small and pointless task, but taking care of the little things will really make a difference. So try it out for yourself and get a home cleaning plan in action. Timetable it into your schedule so that you do a little bit each week and so that it doesn't build up into a workload that you can't handle. If you're renting and have flatmates, talk to them about creating a rota for the communal areas, which should reduce the workload and make it a lot easier to manage.

2. Kitchen cleaning.
If the kitchen is one of your communal areas, it's likely to get a tad messy. The obvious thing to do in order to avoid there being any mess is to clean up after you've finished your cooking. But if this doesn't happen, there're still plenty of things that you can do. Oven cleaning can be taken care of using kitchen supplies such as baking soda and vinegar. First of all, take out your oven trays and clean them separately with some water and dish soap. For the inside of your oven, make up a baking soda-water paste and slather it onto all the interior surfaces. Leave for a few hours, preferably overnight, then spray some white vinegar over the paste. Leave for a further hour or so, and then wipe off and your oven should be sparkling clean! Kitchen countertops are relatively simple to clean. You can either use a water and dish soap or detergent solution and a coarse brush to scrub the countertop, or you can get yourself some antibacterial spray which will work just as well. But whatever you do, be prepared to put some effort and muscle into the work!

3. Quick and easy hard floor cleaning.
Get your vacuum cleaner out and give your floors a thorough clean. If you notice any stains or marks on your floors, remove these first before your get started. This is especially important when carpet cleaning, because you certainly won't want a stain to get rubbed in deep into the carpet fibres. If this occurs, it will be tremendously difficult to remove, but there are stain removers out there that might be effective. Powders are your best option, as they get to work quickly and minimise any drying waiting time. You can always contact a cleaning agency to get some more advice, or to book some equipment or get some extra help.


You may also like: