| | |
| --- | --- |
| 08 July 2015 | How to Clean Your Rugs Effectively |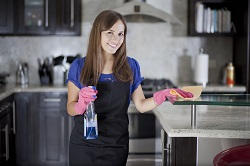 When it comes to keeping your rugs clean the main focus is to identify what material your rug is made form. If there are label on the back they should give you the description of the kind of material it is. Some will advice if it is safe to place in a washing machine (usually smaller ones) or give some cleaning tips. There is a number of cleaning detergents available ranging from shampoos, powders and foams. Each rug is different and the makeup of the material is too. Rugs range from hard wearing to delicate hand-woven sorts so before you do any type of cleaning make sure you are familiar with what yours are made of.
Rug cleaning at home
For most of us rugs are easy to keep clean. They are similar to carpets so need to be vacuumed regularly to keep dust and grit under control. But, they can be easier that fitted carpet to clean. Some can be taken outside and shook to remove the dirt and dust that builds up from the foot traffic in your home. They need similar care and attention to carpet. It is worth having some detergent on hand to clean up instantly if you spill a drink or some food. If you get to a dirty stain or mark straight away it helps prevent it staining permanently and running the look of the rugs. The worst case for carpeted flooring is if liquid is spilt. You need to act fast and blot up the excess moisture first and then treat the stain.
From time to time it is a good idea to clean the rug with a suitable product that suits your specific material. Soaking a rug is not advisable and many of the new cleaning products on the market tent to be of a drier nature. The main concern with rug and carpet cleaning is the drying time. They can take ages to dry when wet so avoid as much water as is possible. When a rug is wet it will take a long time to dry, and it can lead to mold and mildew, so bear in mind this. If the rugs are a reasonable size and the weather is good the great outdoors is a good suggestion to dry out the rugs and air them out. The old fashioned way of beating a rug to remove dust is still donned in many countries and does help keep them clean.
You have to bear in mind that rugs come in all fibers and some fade, shrink and stain easily. Before you attempt to clean make sure you have the proper detergent and test it on a small area that may not be noticeable. Different cleaning agents are available and it is crucial before any cleaning is done to identify the fabric. Wool and hand-woven rugs need special care and attention and possibly professional assistance. Make sure you are familiar with the type of rugs you have.
Other factors to consider when cleaning rugs
Some scatter rugs are hardwearing and can be placed in the washing machine to be cleaned, which makes them easy t care for and manageable. If your rug has tassels it is better to avoid using a vacuum as they can get knotted and tangled up, even lost inside the vacuum. It is easier to get a soft brush and comb through to keep loose and manageable. It's worth noting that a soft brush used in circular motions also helps remove pet hair. Whatever you cleaning problems be prepared and do your research.
You may also like: