| | |
| --- | --- |
| 07 January 2014 | The Perks Of Getting A Professional Cleaner |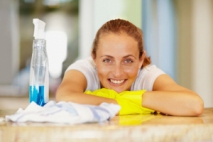 Growing up is something we've all been looking forward to for most of our childhoods and let's face it, what's more exciting than the freedom and ability to do what you want when you want? That dream seems to fade more and more the older you get though. It feels almost as if your responsibilities are on a logarithmic scale with age and escalade within a blink of an eye. You don't need to carry all of your obligations alone. Getting a cleaner to give you a hand with some of your chores allows you to have more time to focus on other aspects of your life.
Professional cleaners strive to maintain the highest quality cleaning and the majority have specialist equipment and highly skilled and experienced employees so they can guarantee that quality cleaning is what you're going to get. They are able to work around you so if you're looking for a weekly clean, a one off clean, or extra sessions for the busy times of the year, you know you can count on a professional cleaner to be there at your convenience. It doesn't matter if you're a business, an office block or even if you need a domestic cleaning service. If you're a tenant and you just need a weekly touch up to ensure your place doesn't get too out of hand or if you're a landlord and you just want someone to come a give some flats a quick tidy every now and again (especially if you are renting to students), they can manage it and let's face it, tidy students are a very rare occurrence.
Cleaning, for most people is the biggest chore that takes up an unnecessary amount of time, builds up out of nowhere and is a never ending cycle. It takes away time from your busy enough day when you could be doing some leisure activity that you loved doing growing up, spending that much desired quality time with your family, or catching up on all of that paperwork that's been slowly piling up. Why waste your time doing something you hate when you could be doing things you love or things that really require attention instead? Why bother dusting those windowsills, cleaning your bathrooms or hovering at the office when you could leave it to the professionals? Get someone you can trust and go for a highly recommended company that specialises in everything you hate doing. Anything that's special to you and requires special care and attention will be treated like their own personal valuables. Every last detail is down to you, if that's what you wish. If you want something cleaned a particular way or you want something in particular to be cleaned, they'll do it. Any requirement, they can meet and if you would like a specific employee every time, then that can be arrange too. This is especially a good idea when you have things you want done in a certain way as you won't have to keep briefing a new person and you both know the standard that is expected every time.
If you're still not sure, why not see what a professional cleaning service are capable of and hire one as a trial. A lot of companies do a much cheaper trial clean for you to see whether or not that is what you may wish to continue with. Cleaners are costly, but if you want more leisure time in your life or you're struggling to juggle everything in your life and just need a hand once a week then a professional cleaning company is very recommended.